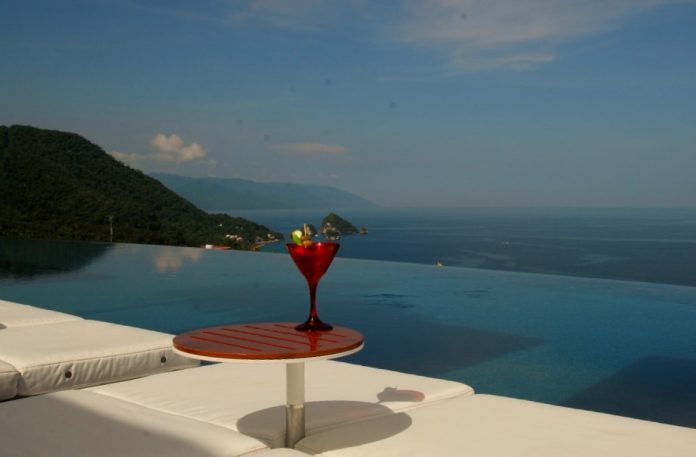 Photography and Text by Terry "Travels with Terry" Zinn  [email protected]
Hotel Mousai is worlds away from the ordinary upscale all-inclusive resort. The high rise column of luxury accommodations, nestled on a juggle covered mountain side, is indeed a world away from expectations. In fact, lunching or cocktail imbibing or swimming in the roof top infinity pool (one of three in the Mousai complex) one can hardly believe they are not on the French Riviera, or at some exotic South East Asia retreat. Surprisingly, Hotel Mousai is only a moderate nonstop plane ride away to the destination popular Mexican resort of Puerto Vallarta. Puerto Vallarta is named as one of the friendliest Mexican towns.
The roof top pool at the all adult Mousai is accompanied by another infinity pool half way down the mountain side, where again, food and beverage and the uninterrupted vast exotic ocean side horizon embracing the soul. Down by the ocean is the sister accommodation of the Garza Blanca family friendly resort where again a pool with food and beverage service is accompanied by a modest white sand beach, complete with access to jet skis and kayaks.
Upon your greeting with a cool refreshing towel, and a cool beverage perhaps made of green tea and fruit, you are adorned with a ribbon bracelet which identifies you as an honored Hotel Mousai guest, and grants all-inclusive privilege throughout the compound. No tacky rubber or paper bracelet but a handmade braided ribbon, which is an example of the details that exist to accentuate a guest's stay.
You may be assigned your personal butler, acting more like a second concierge than a room assistant, to guide you during your stay and perhaps accompany you to your high rise, ocean view room. Here be sure and detain your host to explain in detailed the plethora of digital light switches and other amenities. Here you will find your touch control switches to open and close two sets of panoramic curtains, the playing of a variety of music, in addition to several lighting configurations, including sedate illumination of onyx décor and a more conventional room temperature control. Of course a traditional TV remote is a welcomed companion to the super wide screen, complete with CNN and a few English stations, mounted on a wood and mirrored wall. The pristine maintenance of that wood and glass mosaic to the everyday accumulation of salt sea breezes and fingerprints is unimaginable. But such are the details you'll witness.
Besides your room's dual shower and dual sinks atop massive onyx bases, a Jacuzzi may adorn your balcony view, where you may also enjoy room service dining or an addictive retreat to a large welcoming hammock. Submerged in your gentle Jacuzzi you may forget that this is another infinity designed pool.
The complex offers several all-inclusive restaurants. A favorite is the morning terraced breakfast option off the main lobby, which converts to Oriental dining later on and of course offers beverages. While during the off season of summer you may dine at, Hiroshi, Blanca Blue, BocaDos STK, Aquazul and the Terrace without reservations, and let your whim be your guide. The attentive staff at this relatively new hotel have been hired for their friendliness and personal affinity for the guests, and maybe not so much for their previous hotel experience. A forward thinking hotel management philosophy.
The additional cost Spa is an over the top experience, offering several types of hydro therapy, a variety of creative massages (Ever had a Tequila wrap massage?), and salon complete with expert manicures and pedicures. Of course there is an upscale and extensive work out facility, with again that beautiful vista you come to expect.
With all of your resort needs filled at the complex, it may be hard to pull yourself away to take a tour of the town of Puerto Vallarta. If you have never visited before you will find the everyday seaside resort a touch of old Mexico mixed with touristy venues, and some good dining experiences. Your tour provided by the hotel may include a Tequila tasting with stops near the famous ocean side views of the movie location of Night of The Iguana, along with a brief stop at a quaint village called "Mouth of the Tomato."
An added convenience is the frequent hotel shuttle trolley to take you up and down the mountain side to your various venues, or a golf cart can also be arranged. This is a detail appreciated by seniors and all who what an ease of access. All in all Hotel Mousai is fit for an out of this world contemporary James Bond experience, and/or for you requiring the best in exotic resorts. For more information and your reservations: http://www.hotelmousai.com/ or Goggle Hotel Mousai.
Mr. Terry Zinn – Travel Editor
Past President: International Food Wine and Travel Writers Association
http://realtraveladventures.com/author/zinn/
http://www.examiner.com/travel-in-oklahoma-city/terry-zinn
www.new.seniornewsandliving.com – www.martinitravels.com