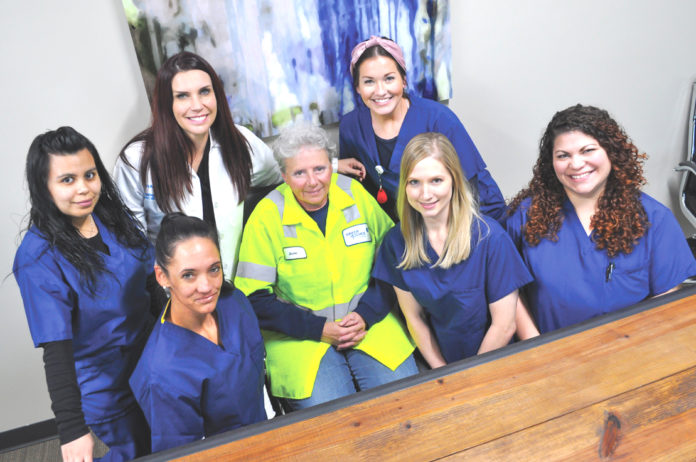 story and photo by Bobby Anderson, Staff Writer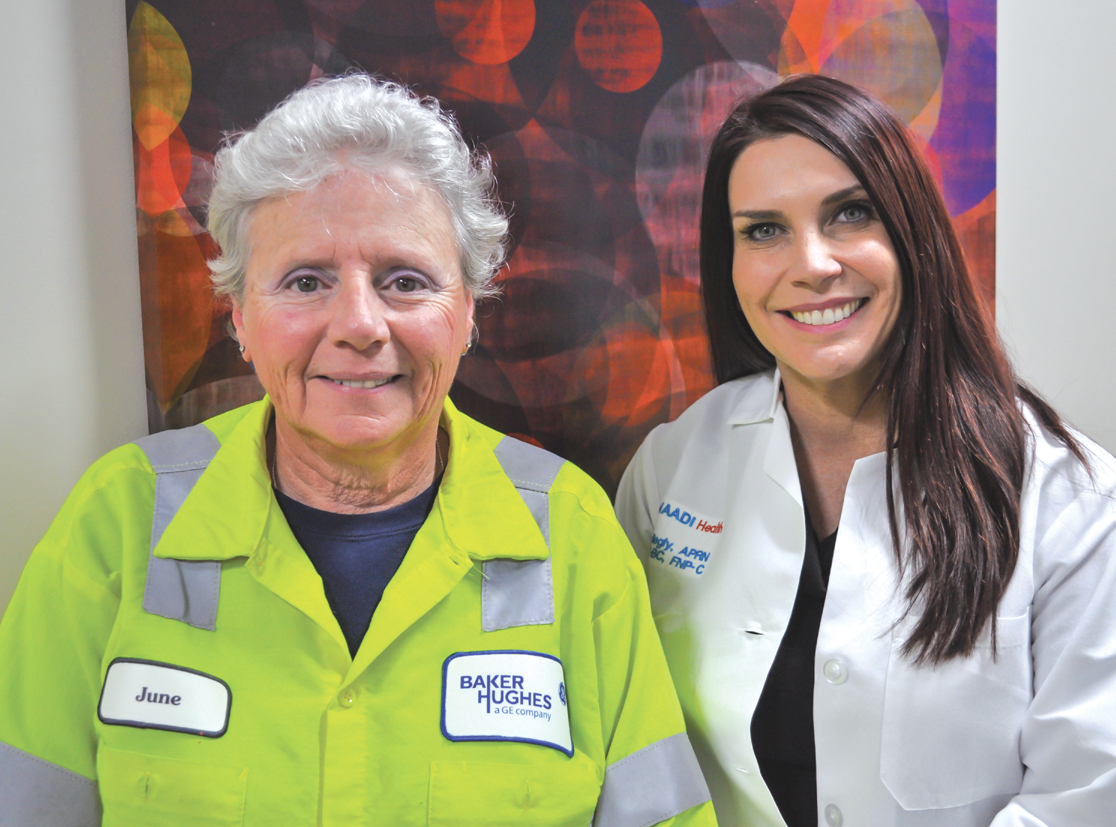 It's a new year and June Brown is celebrating her new lease on life.
"They said there was really nothing they could do. It was just damaged muscle," Brown said, recalling a July 2006 injury to her left leg that left her living in pain.
Over the next 13 years, that injury gave way to a vicious cycle of pain, redness and swelling followed by antibiotics.
And building oilfield equipment for a living, that meant Brown spent long days on her feet which just made problems worse.
She managed the best she could until she noticed a hole forming in her leg, about the size of a pencil eraser.
Her doctor put her on another round of antibiotics hoping it would curb the growing infection.
"The doctor was real nice but said he had never seen anything like this and wouldn't touch it," Brown remembers.
Finally deciding she had had enough, Brown pressed the issue and sought a second opinion.
Pathology samples showed dead tissue in her leg due to no blood flow.
"It was basically just dying," she said.
She was horrified and in need of help.
GIFT OF HEALING
That's when she found Dr. C.V. Ramana and Naadi Healthcare Vascular and Interventional Center.
Dr. Ramana was able to restore blood flow for the first time in more than a decade.
"Within two weeks I was released from wound care. You wouldn't believe the difference," Brown said. "It's got a scar but it's a totally different leg. I'm just so happy there's no pain, no nothing.
"I can forget about it."
Naadi specializes in peripheral vascular disease and venous insufficiency.
From pain in the calf while walking to non-healing wounds, Naadi works on getting people back to their former selves.
"Ultimately, the end goal is if somebody has a really bad wound we don't want them to lose their limb. We want to save their limb, save their life. People who have amputations have a very high mortality rate," said Shelby Dudley, a radiology technologist at Naadi.
Naadi Vascular and Interventional Center is the first outpatient center in Oklahoma City dedicated to vascular and interventional radiology.
Interventional radiology (also known as IR) is the minimally invasive, image-guided treatment of medical conditions that once required open surgery.
Breakthroughs in technology and imaging have created new treatment choices for patients. In this new era of medicine, there is no longer one "right way" to handle your condition.
Personalized medicine means doing the right thing for each individual patient. More than ever, it's imperative for you to know and understand all of the available options to treat your condition or disease. In many cases, there is a minimally invasive approach that could dramatically reduce your pain, risk and recovery time.
"A lot of people have pain in their legs and they think it's normal and it's not," Dudley said. "A lot of people have peripheral vascular disease and they don't know. It's a misdiagnosed disease. This can be treated and there are things that can be done to prevent it."
Controlling diabetes and blood pressure, exercise and maintaining a healthy diet are some of the biggest modifiable risk factors that can help prevent peripheral artery disease.
After the injury, Brown resigned herself to her current condition. She didn't know things could be better.
Not until she visited Naadi and Dr. Ramana.
"He was great. He was real sweet and real concerned," Brown said of Dr. Ramana. "He was patient with me. He didn't try to push. He let me go at my own pace. I appreciated that. He made it to where I would understand what was going on to help relieve some of my anxiety."
"His staff is really sweet. You couldn't ask for better, more concerned people that want to make sure you're comfortable, relaxed and healthy."
Patients are able to self-refer to Naadi. Taking her health into her own hands was the best gift Brown could have given herself.
"That's something I hope we can make a change in the culture," Ramana said. "People see all of that as a normal part of growing old and kind of accept that and don't think there is anything they can do to impact that."
"One of the nice things about being in a facility like this is you get to see those patients over and over and you get to see how you've impacted their lives," Ramana said. "It's very rewarding."
And now Brown has a new lease on life.
Visit Naadi Health at 1 NW 64th Street in Oklahoma City or call (405)-608-8884. www.naadihealthcare.com