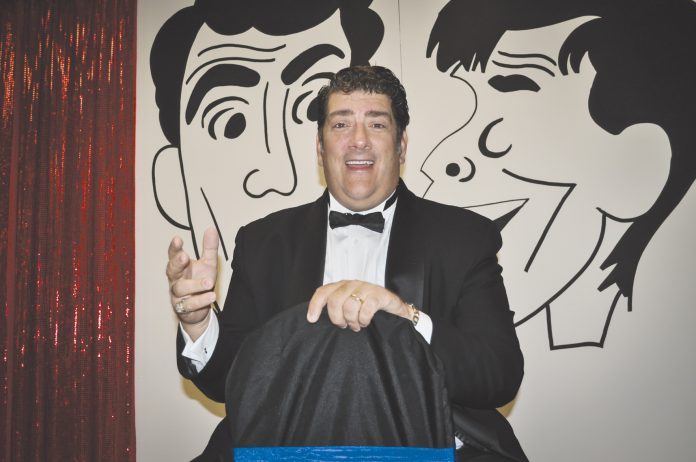 by Bobby Anderson, Staff Writer
It's been more than a decade since legendary entertainer Dean Martin passed away.
But for a few hours every Friday and Saturday night his infectious spirit and joy are alive and well inside the Yellow Rose Theater in Moore.
Impersonator Michael Cooper and a troupe of performers breathe new life into characters like Martin, Jerry Lewis and members of the Rat Pack at Oklahoma's only full-time dinner theatre.
Cooper has been portraying Martin for 14 years now in what began humbly as a ministry outreach of the Revival for Christ Club.
Christian-based original plays and dramas came in the early days and are still scattered among the offerings.
A big fire destroyed the area that is now the Yellow Rose Theatre nearly 15 years ago.
During the rebuild the church's contractor ran off with much of the repair money.
So guys like Cooper would work their regular jobs during the day and then come to the church at night to make repairs.
The church's then-pastor asked what it would take to do a Rat Pack show.
Cooper wasn't sure.
"We didn't look like them, didn't sound like them and didn't act like them," Cooper said. "We could just sing because we were praise and worship leaders. We decided 'let's see if we can't ride this thing.'"
So Rat Pack boot camp began. The group read every book, watched every movie and read every snippet online about the famous entertainers.
They finally nailed it.
The group now travels around the country, stopping at Carnegie Hall and Hard Rock Casino.
Fifties, sixties, seventies shows began to pop up as did Motown and Country performances.
BECOMING DEAN
"I've read lots of books and watched lots of footage and just luck I guess," Cooper said of becoming the persona of Dean Martin. "The first couple years I wasn't very good."
The group is now one of the four most recognized Rat Pack groups in the country.
"Now it's just the experience of having done it thousands of times," Cooper said. "I can fire up and do it any time. Some nights are better than others. I've been doing it for so long now it's just natural."
Cooper channels his inner Dean Martin on the weekends and during the the group's most recent show run of The Colgate Comedy Hour, which featured standup, skits and original Colgate Comedy Hour commercials in between.
And it's all done while guests are dining with friends or soon-to-be friends.
Executive Chef Kim Johnson handles the cuisine. A catering company also operates out of the theater, which can be rented during the holidays.
"The food is phenomenal. We've had people ask for recipes," Cooper said. "When we started the dinner theater we traveled all over the country. One thing we knew was we would have good food. People aren't going to get a sliver of shoe-sole meat, a slap of mashed potatoes and some corn on a plate. We give big portions."
GIVING BACK
The shows are indeed a ministry for Cooper and his ensemble.
After every show Cooper and the performers greet the guests as they leave the building.
One night a woman came up with tears in her eyes.
"My husband has Alzheimers," she said, her voice cracking. "Once the music started I had my husband back." I danced with him. He recognized who I was.
We were all in here crying. Literally, once they got back in the car he was far away. But for two hours she had her husband back.
"Even though you might not have a Bible in your hand or be in the sanctuary we're able to minister to people and that's why we do it."
All of the recent skits and standups are versions of the skits that the original group did on the Colgate Comedy Hour.
"Some of the humorous parts of it were because it was Dean and Jerry," Cooper said. "As much as we try to portray them we're not them. It's almost harder for us than it was for them."
"We knew from the beginning that we had them. We knew this was going to be a viable show."
I laughed so hard my throat hurts. I haven't laughed this much in years.
Both are just a sampling of the comments the group gets after every show.
Cooper will be busy again during the holidays.
For Christmas the group will put on Dean's Very, Very, Very Merry Christmas. Jerry Lewis will be a part and possibly Frank Sinatra and Jimmy Durante thanks to Cooper's friends.
But three Tuesdays and one Saturday in December will be dedicated to the Sharon L. Vanover memorial dinner.
Qualified families from Moore, South Oklahoma City and Lawton are treated to a show and each child receives a Christmas present.
It's all about showing love for people.