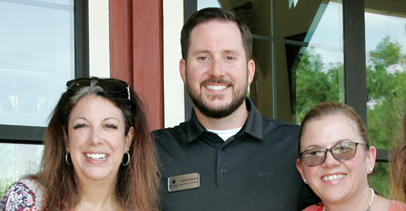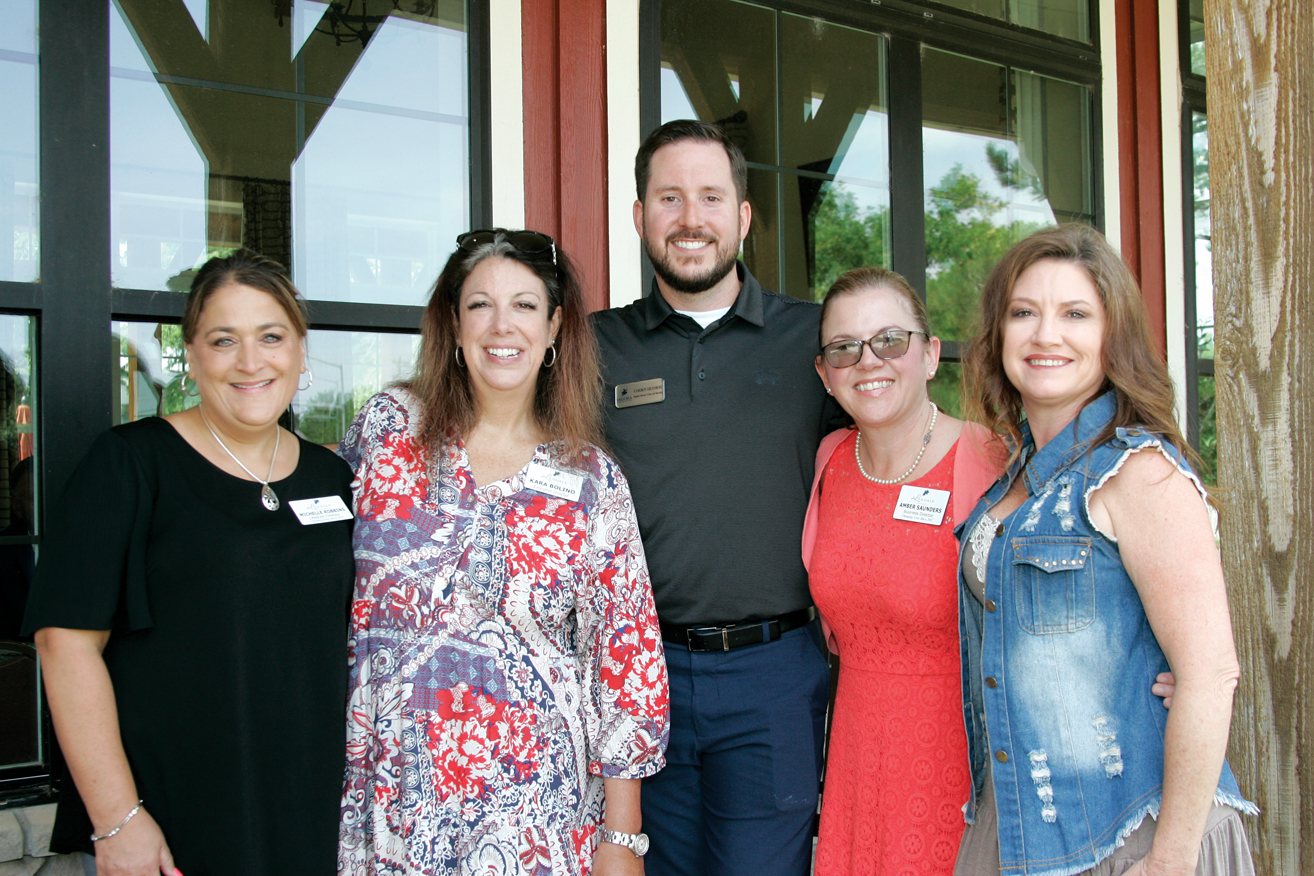 Story and photos by Darl DeVault,
contributing editor
Lyndale Edmond Senior Living Sales and Marketing Director Amber Compton welcomed 58 Senior Business Solution (SBS) colleagues to their networking luncheon on July 20 at Lyndale Edmond. Emphasizing how shifting demographics and reshaping complexes built for older Americans address a variety of rates and services, she explained they have recently added another nurse to the one already available in their assisted living option.
She explained that Lyndale features nine cottages on their remodeled senior living property as well as 115 independent living and 48 assisted living apartments for a total now of 173 units.
Lyndale is setting up a caregiver support group where attendees meet for lunch monthly beginning in the Fall. Topics will vary monthly and cover various issues and challenges caregivers face. Guest speakers will provide insight and resources available in the area. The support group will be held in the Lyndale Clubhouse on the second Thursday of each month at noon beginning in September. Seating is limited, so RSVP is required at 405-340-5311.
The hosts shared their premium meeting space, their clubhouse adjacent to their pool, for the monthly gathering of senior healthcare marketers and senior-focused company workers.
Regional Director of Sales & Marketing Cameron Gruenberg was on hand to observe from his office in Tulsa.
"Lyndale Edmond is a beautiful senior living community offering independent and assisted living with a resident-first philosophy, caring associates, great lifestyle programs and delicious meals," Compton said after the luncheon. "By hosting this event, we showcase to attendees what life is like at Lyndale Edmond."
The networking group was treated to one of the host's amenities when Lyndale Culinary Director Bryan Newton offered a well-received lunch of chicken piccata, parmesan mashed potatoes and grilled asparagus.
The luncheon continued with each invitee giving a few minutes of background on their employer and how they saw their role in helping seniors with their needs in the community. A few people outlined special events their venues were planning in the near future, inviting others to attend.
Vicki Escajeda solicited more raffle prizes and interaction to support the booths available at the upcoming Senior Day on September 20 at the Oklahoma State Fair. She also talked about how independent living, assisted living, and long-term care communities could submit a one-minute video by August 20 of their residents "In Motion." The entries will be judged, and the top 10 will be shown at the Fair, where the public will select the winner.
Joe Forrest with Re/Max FIRST gave his customary real estate market update explaining that home prices are up five percent in the market for those seniors seeking to sell their homes to move to senior centers. Forrest has worked in home healthcare services, independent and assisted living, rehabilitation, and as a Realtor for the past 20 years.
The guests were reminded of the Oklahoma Assisted Living Association Annual Trade Show as the association celebrates its 26th anniversary on August 22-24 at the Embassy Suites in Oklahoma City.
The meeting was a more personalized version of a monthly networking newsletter with information, announcements, and networking within the retirement industry.
Erin Stevens outlined that "The Edmond Way" is offering local hometown journalism to Edmond as it publishes online as a free weekly newsletter now and seeks to start printing editions in the Fall. Readers can find the publication at The Edmond Way.
Several speakers highlighted how to get involved in Oklahoma's many Alzheimer's Association Walk to End Alzheimer's, with the main ones being September 16 in Tulsa and October 28 in OKC.
Some providers reported real-time availability for their care and housing options, home care, and hospice providers.
Later, Compton explained that the spacious, fully-featured clubhouse the meeting was in is available to clients for special events and for rent to outside groups. She offered the facility or to co-host any of the three upcoming SBS events in August, October and December that have yet to be planned.
The guests were also reminded that Lyndale hosts a monthly "Happy Hour" late afternoon for further networking. The event features the use of the pool, weather permitting, with food, drinks, and networking.
Conversations before and after the more formal portion allowed attendees to stay connected with their senior industry peers while building possible referral networks.
Sagora Senior Living operates the Lyndale property. Oklahoma is home to five more of their communities: Aberdeen Heights, Aberdeen Memory Care of Tulsa, Bellarose, Elison Independent Living of Statesman Club, and The Veraden. Sagora is one of America's top 50 privately-owned senior housing operators with communities throughout Texas, Alabama, Florida, California, Illinois, New York, North Dakota, Ohio, West Virginia, Mississippi and Nebraska.
For more information about Lyndale Edmond Senior Living https://www.lyndaleedmond.com/.